Are you excited?

Not long now until Semester One begins.

As always, the first date for your diary is Orientation – the time for information sessions, social events and must-do administrative tasks.
Come to Orientation and your transition to University will be made so much easier. Plus you'll make some new friends and score some free food!

Below is an overview of what's planned at your campus. For more details, to register for some events or to make a personalised Orientation schedule, go to our Orientation Planner.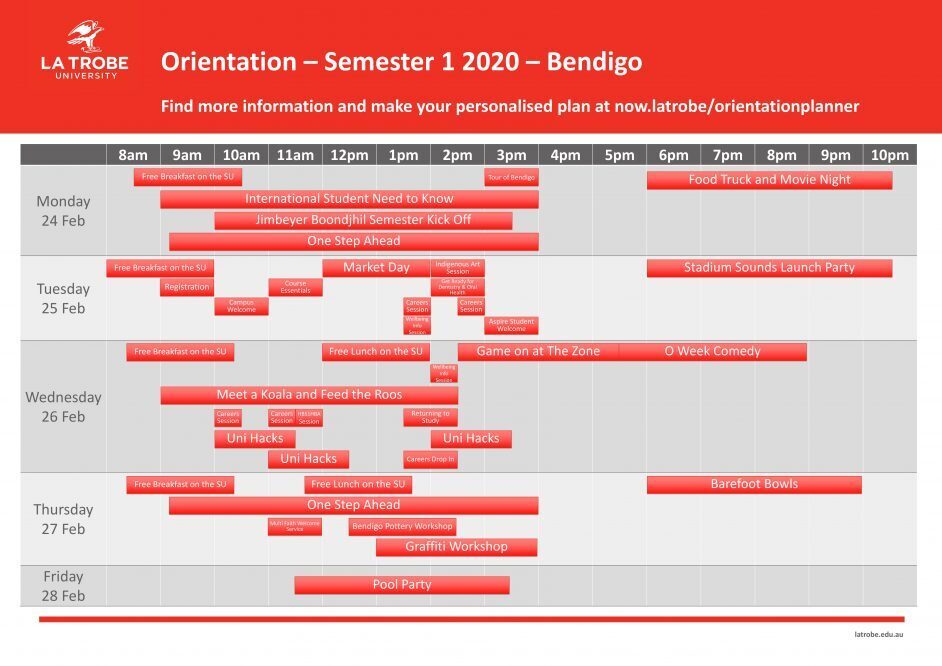 Meet and greet (and eat!)
One of the best things about studying at La Trobe in Bendigo is how everyone knows each other. So naturally there's plenty of chances to get to meet the people you need to know.
On Monday, our Indigenous Unit, Jimbeyer Boondhjil, will welcome us to country with a morning of activities. On Tuesday morning, Head of Campus Rob Stephenson and other local dignitaries will officially declare Semester One underway.
Course Essentials sessions are a vital item on the schedule: meet key teaching staff in your area and get to know some of your new classmates.
Then there's Market Day – the perfect way to see the diverse range of clubs and services on offer at La Trobe. Sign up for the gym, join the Ukelele Club or volunteer to tend to The Patch (our campus vegetable garden).
How to Uni 101
Orientation is your chance to ask questions about how things work at La Trobe.
So there's plenty sessions introducing you to different aspects of campus life.
There's campus tours, Uni Hacks sessions teaching you how to use the all-important library and opportunities to meet with our wellbeing and careers teams.
Social opportunities
The Bendigo Student Association has a huge range of social activities during Orientation, ranging from the sporty to the artistic.
Grab a feed from our food trucks and settle in for a movie on Monday night in the La Trobe plaza.
On Tuesday night, dance up a storm at the big Stadium Sounds launch party (this is not to be missed!)
On Thursday, try your hand at graffiti or pottery, then go for a roll at Barefoot Bowls.
On Wednesday, comedy icon Randy Feltface will have you in stitches – that's after you've played some laser tag at The Zone and had your photo taken with a koala and kangaroo.
Finish the week on Friday by taking a dip at the BSA Pool Party, happening at nearby Brennan Park swimming pool.