Just as a heatwave is about to hit Melbourne, we've got some good news!
Works will commence in the new year (15 January) to install a new air-conditioning system in the Agora Theatre and Cinema to improve thermal comfort.
These works are expected to be completed by April 2020.
Construction impacts:
There will be increased noise and construction activity in the area.
Bookings for Agora Theatre and Cinema will still be available but please note there will be noisy works/construction activity adjacent to these areas.
At times, there may be interruptions to the Level 1 toilets in Agora Theatre – outages will be posted via I&O's Impacts and Outages site.
Any power outages will occur out of hours and a back-up generator service will be provided.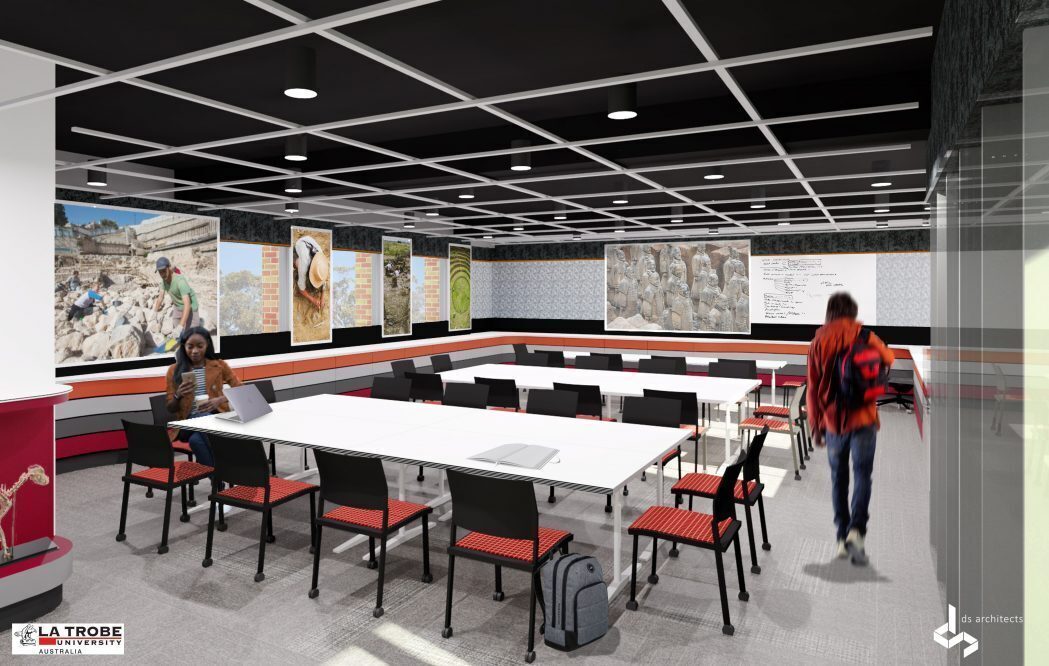 in other news… Archaeology Teaching spaces are getting refurbished from 12 Dec 2019
A number of spaces on Level 1 of the Martin and Social Sciences buildings will be refurbished as part of the Archaeology Teaching Spaces project. The works include:
Creating a new teaching room with capacity for up to 30 students featuring display cabinets to showcase archaeological artefacts (pictured below).
Refurbishing a small teaching room into an open plan office for PhD students.
Refurbishment of an existing Higher Degree Research office.
Transforming a teaching room into a presentation room to host functions, presentations or large meetings with research partners.
There will be increased noise in the area during these works, which are expected to be completed in March 2020.
'Topping Out' and topping off a great year at the new student accommodation!
The Student Accommodation project has reached a major construction milestone with the 'topping out' of both the North and South buildings – the largest mass timber project in Victoria featuring 2,700 timber elements. The occasion was marked on Tuesday 17 December with a traditional tree-raising ceremony to bring luck to the building.
Topping out is a tradition in the construction industry that celebrates a building structure reaching its highest point. The ritual originates from Scandinavia where a tree was placed atop a new building to appease the tree-dwelling spirits.
A native Eucalyptus Scoparia tree, donated by one of the local sub-contractors, was chosen as a symbol of La Trobe's ongoing commitment to environmental sustainability and creating a sense of community. This eucalypt will then be planted in the landscape around the buildings next autumn, along with around 2,600+ other indigenous plants currently being grown at the La Trobe Wildlife Sanctuary.
the tennis courts have been refreshed
The tennis courts across the road from the Student Accommodation project have had a makeover with new fencing and a fresh playing surface laid.
This will be enjoyed by players over the summer tennis season.